When someone mentions a 19th or 20th century suffragist, do you conjure up an image something like this? Stuffy maiden aunts with a bun of gray hair – no ears showing – who had sworn a solemn oath* to never smile or – gasp – laugh until women got the vote.

Think of the pictures you've seen of the venerable and supreme suffrage leader, Susan B. Anthony (1820-1906). She starting campaigning for suffrage in her early 30s and kept it up for more than half a century -- and still didn't get to see success in her lifetime. She famously said "failure is impossible," but, yikes, what a long slog.

I suspect a photo of a smiling SBA is about as likely to surface as a bottle of hooch at a 19th century temperance meeting. Other suffragists don't exactly appear to be a laugh a minute, either. Of course, I realize this quirk isn't attributable to suffrage, but rather the photography practices of the day.** Another contributing factor – it seems that many of the most familiar photos show leaders in their later years, further lending a serious note, in my opinion. (I'm not exactly a young pup, so I think I can safely say that.)

Anyway, I believe these photos and the very serious cause suffragists fought for could cause reasonable people to conclude that humor was perennially absent. But then along comes Alice Duer Miller to destroy that stereotype of dour suffragists.

The multi-talented Duer Miller wrote verse for the New York Tribune in a column called Are Women People? Many of these columns were reprinted in her 1915 book with the same title.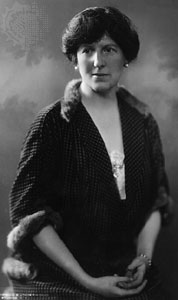 Alice Duer Miller, ca. 1920. https://commons.wikimedia.org/wiki/File%3AAlice-Duer-Miller.jpg (public domain photo)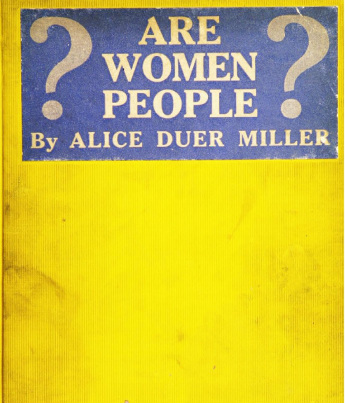 New York: George H. Doran Company. 1915 (public domain). The book is subtitled "A Book of Rhymes for Suffrage Times."
It took me forever to write this short blog post because, I'll admit, I went all fan-girl when I discovered Duer Miller and her pro-suffrage/feminist poetry. I definitely kept going down one rabbit hole or another in search of more info.
Since this is
National Poetry Month
, I'll aim to share more of her verse and her life in the next few weeks. (I'm really looking forward to
Poem in Your Pocket Day
-- April 21.) Here are a couple of selections from
Are Women People?
to get things rolling.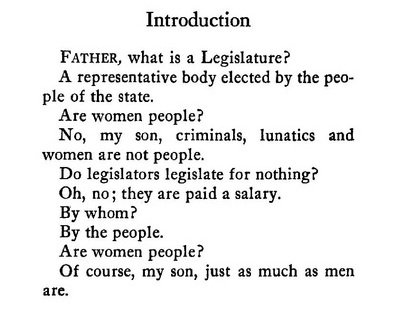 This little ditty is from pages 34-35. See *** below to find out why she's apologizing to a fellow poet.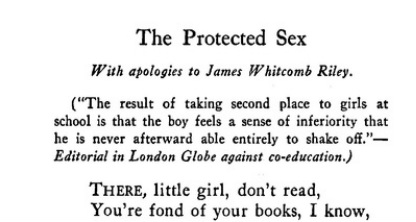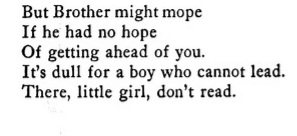 So, am I the only one who is captivated by Duer Miller's writing? Are you surprised that humor had a place in the suffrage movement?
***********
*
Many early suffragists, including Susan B. Anthony, were Quakers, and Quakers were opposed to oath-swearing, so maybe they came up with a clever alternative?
**The lack of smiling faces old photographs isn't merely because of lengthy exposure requirements. Check out this
Smithsonian video
and this
Guardian article
for some context.
***Often referred to as the "The Hoosier Poet" or the "The Children's Poet," James Whitcomb Riley was famous in the late 19th and early 20th centuries. Here Duer Miller is riffing on his poem,
A Life-Lesson
, which begins with these lines:
There! little girl; don't cry!
They have broken your doll, I know …