A few things people have said about my writing or working with me: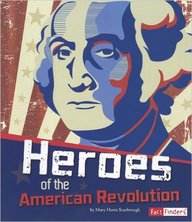 Heroes of the American Revolution (Capstone, 2012)
From the Junior Library Guild: When you think of Revolutionary War heroes, George Washington often comes to mind. However, Scarbrough's book goes beyond the traditional history books to tell readers about the many men and women who risked their lives for freedom. Part of the "Fact Finders" series from Capstone, this nonfiction title is just right for grades 3-6. It includes great illustrations and text boxes, and other features your readers will need when decoding good informational text.
and
From School Library Journal: From the early tensions wrought by the French and Indian War to the decisive days of the Constitutional Convention, these introductions delineate the Revolutionary War in a way that is compelling and informative. The sentence structure is short, direct, and engaging, e.g., "Spies used both words and weapons to fight during the war."
---
---

Mary Hertz Scarbrough was a delight to work with. She followed guidelines closely and met all her deadlines, and her work was original, well-documented, well-written, and best of all, lively and engaging. She has a good eye for details that will catch a child's interest while illustrating an abstract concept. I highly recommend her work.
Cindy Trumbore Kane, editor at Six Red Marbles and award-winning author (Parrots Over Puerto Rico, Prairie Dog Song, The Mangrove Tree, and more.)



---
Subject: How can I say this ....
...I absolutely love, love, LOVE your first piece!! Your writing style is just terrific. Succinct, clear, well-planned, yet full of personality and vibrancy. Did I mention that I love it?
Email from Beata Santora, former editor-in-chief at Quick and Dirty Tips (read Mary's articles here)
---
"What would Mary do with this sentence to make it even more fantastic?" That's what I ask myself when I write and when I edit—that's how impressed I am with Mary's exceptional storytelling and editing. When Mary worked in corporate communications, I entrusted her with our most important articles, and she was responsible for editing our college student communications employees' work. I think they learned more from her style of editing and encouragement than what they were learning in school.
Staci Perry, Communications Manager at Daktronics.

---

Mary was my primary editor for a corporate communication position I held in college. She is one of the most gifted and generous writers I have worked with. She is as talented and intelligent as she is humble and caring. I have been privileged to know her.
Jordan Nichols, South Dakota State University student

---

When I opened your package, I made like a fan-girl and showed everybody in my house. It's pretty cool to know the person behind the books,
because it makes it seem possible that someday I might be that person. Thank you SO much for taking the time to put together an inspiring
birthday gift for an aspiring author!
Audrey Dontje Lindell, Luther College student